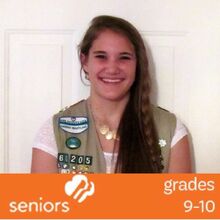 The Girl Scout Seniors 
are the fifth level of Girl Scouts. Ninth and tenth graders are in this level. Their wear the same uniform as Cadettes—however, the disks for their membership stars are red and their badges are a rectangular shape.
Seniors use the Girl's Guide to Girl Scouting for Seniors and the National Leadership Journeys to earn badges. They are typically encouraged to create and lead activities for the younger Girl Scouts, and to take a leadership role in organizing and assisting with Council and service unit/association events and activities. They may earn the Counselor-in-Training (CIT), the Volunteer-in-Training (VIT), the Girl Scout Senior Safety Award, the Gold Torch Award, the Senior Community Service Bar, the Senior Service to Girl Scouting Bar and the Bridge to Girl Scout Ambassador award.
Seniors are eligible to earn the Gold Award.

Senior Leadership Journey Awards Edit
GIRLtopia 

Visionary Award (Badge or Pin)
Sow What?

Harvest Award (Badge or Pin)
Mission: Sisterhood

Sisterhood Award (Badge or Pin) 
National Proficiency Badges
Edit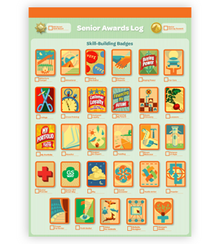 Legacy Badges Edit
Collage
Cross-Training
Behind the Ballot
Locavore
Senior First Aid
Senior Girl Scout Way
Sky
Skill Building Badges Edit
Website Designer 
Women's Health 
Troupe Performer 
Science of Style 
Novelist 
Textile Artist 
Room Makeover 
Truth Seeker 
Adventurer 
Car Care 
Voice for Animals 
Game Visionary 
Social Innovator 
Business Etiquette
Financial Literacy Edit
Buying Power
Cookie Business Edit
Girl Scout Senior Safety Award
Edit

Girl Scouts go on new adventures every day, but safety is the number one priority.
The Girl Scout Gold Award
Edit

Main article: Gold Award
The Girl Scout Gold Award is the highest award a Girl Scout can earn. It is awarded to Girl Scout Seniors or Ambassadors who complete a project that will make a lasting difference in the world.
Prerequisites Edit
Girls must be in high school, be a registered Girl Scout Senior or Ambassador or have earned the Girl Scout Silver Award and completed one journey.
Gold Award Steps Edit
Identify an issue.
Investigate it throughly.
Get help and build your team.
Create a plan.
Present your plan and gather feedback.
Take action.
Educate and inspire others.
Bridge to Girl Scout Ambassadors
Edit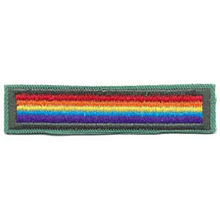 Complete the two bridging steps to earn your Bridge to Girl Scout AmbassadorAward. Share your talents and skills by teaching younger Girl Scouts something you learned to do as a Senior. Whether you started Girl Scouts as a Daisy or joined as a Senior, you have learned a lot to get here!